Along with the Xiaomi Redmi 10 Prime, the Chinese firm has presented in India its new generation of headphones, the Redmi Earbuds 3 Pro. It is important not to confuse them with the Xiaomi Redmi Buds 3 Pro, because the former are "Earbuds" and the latter are "Buds". They are similar, but not the same.
In fact, the Xiaomi Redmi Earbuds 3 Pro are somewhat simpler headphones than the Buds 3 Pro. However, it has a chip Qualcomm and support for aptX Adaptive, IPX4 resistance and a battery that promises more than enough autonomy. Its price? About 70 euros to change.
Data sheet of the Xiaomi Redmi Earbuds 3 Pro
XIAOMI REDMI EARBUDS 3 PRO

DIMENSIONS AND WEIGHT

Headphones: 28 x 16 x 21mm – 4.6 grams

Case: 65 x 42 x 32 mm – 51 grams

DIAPHRAGM UNIT

N/D

Dual Drivers

CONNECTION

Bluetooth 5.2

COMPATIBILITY

iOS, Android

BATTERY

Auriculares: 43 mAh

Case: 600 mAh

AUTONOMY

Headphones: up to 7 hours

Case: up to 30 hours

CHARGING THE CASE

USB type C

EXTRAS

Qualcomm aptX Adaptative

IPX4 resistance

Latency 86 ms

Gesture control

Position detection

PRICE

69.21 euros to change
Lightweight and waterproof
The Xiaomi Redmi Earbuds 3 Pro are some compact and fairly light headphones. Each one weighs 4.6 grams, which is not bad at all, and the case weighs 51 grams, so a priori it should not be an excessive burden when carrying it in your pocket. They can be obtained in blue, white and pink.
The headphones incorporate the Qualcomm QCC3040 chip, Bluetooth 5.2 and the technology Qualcomm aptX Adaptative. It dynamically adjusts the bitrate, which can go from 280 Kbps to 420 Kbps, in order to offer better audio quality. They also have a dual driver for improved bass and treble reproduction.
From Xiaomi they claim that their headphones have a 86 millisecond latency, so in theory they are capable of behaving in gaming sessions, although ultimately it will depend on the device we use. In this sense, it should be noted that they are compatible with iOS and Android.
Finally, and in terms of battery, the Redmi Earbuds 3 Pro have 43 mAh and are capable of offering up to seven hours of music, according to Xiaomi. If we take into account the battery of the case (600 mAh), Xiaomi claims that we can aspire to get up to 30 hours.
Versions and price of the Xiaomi Redmi Earbuds 3 Pro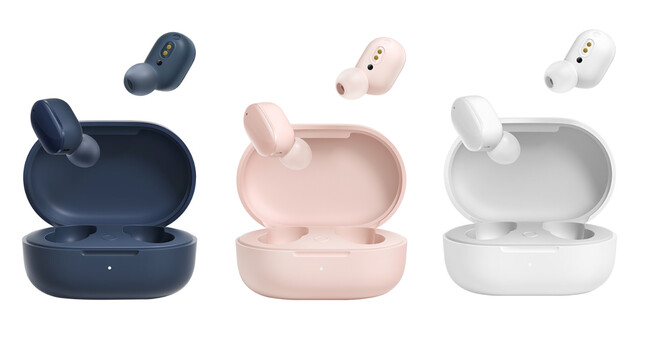 The Xiaomi Redmi Earbuds 3 Pro They have been launched in India and, for now, there is no news about their possible arrival in Spain. We will update this text if they do. In India its price is 5,999 rupees, which at the current exchange rate is 69,21 euros.