Wi-Fi 7 (802.11be): the future standard that promises to be about four times faster than Wi-Fi 6 and rival in bandwidth with cables
The next Wi-Fi standard promises to be a huge leap forward. It will not be until 2024 when the technology popularly known as Wi-Fi 7 is expected to reach our devices, but the first characteristics that companies such as Intel point out make an important difference with respect to Wi-Fi 6 and the new Wi-Fi 6E that promises up to 9.6 Gbps.
Wi-Fi 7 (802.11be) promises to be much faster and extremely low latency. A promise that we have also seen in previous generations, but this time the numbers seem to accompany it. According to a 'paper' published in ArXiv and Intel's forecasts, Wi-Fi 7 will offer at least 30 Gbps per access point and up to 48 Gbps theoretical. A bandwidth about four times higher than the almost 10 Gbps that can be reached today through Wi-Fi.
What changes will Wi-Fi 7 offer
In addition to the improvement in performance, bandwidth and efficiency, Wi-Fi 7 will introduce new technologies such as MLO ('Multi-Link Operation). It is a kind of channel aggregation. As described by Carlos Cordeiro, CTO of Wireless Connectivity, with MLO it will be possible to use different channels to transmit the same packets and ensure low latency by using multiple bands at the same time. Wi-Fi 7 will have the ability to work between the 2.4 GHz, 5 GHz and 6 GHz channels simultaneously to choose which is the best option.
The comparative numbers with Wi-Fi 6 are still approximate, as it depends on what parameters we compare. Although experts like Cordeiro point out that the maximum aggregate data speeds will be up to 7.2 times higher than those that can be achieved with Wi-Fi 6.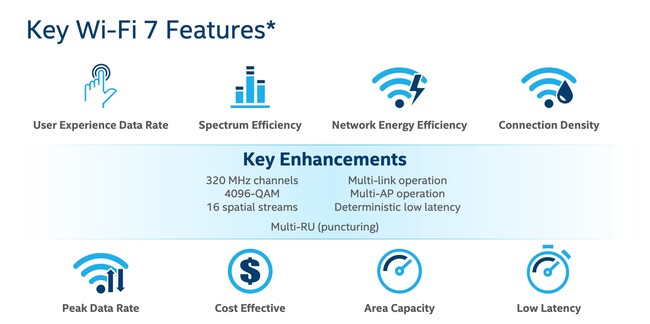 One of the advantages of Wi-Fi 6 was that the 2.4 and 5 GHz bands were used for the first time for better coverage. With the new Wi-Fi 6E the entire spectrum from 6 GHz is covered, up to 7.125 GHz. An improvement that in Wi-Fi 7 will be maintained.
Wi-Fi 7 signal modulation will be 4096-QAM, following OFDMA (Orthogonal Frequency Division Multiple Access). The width of the channels will be doubled, going from 160 MHz in Wi-Fi 6E to 320 MHz, available in three non-overlapping channels in the frequency ranges of 5.925 GHz to 7.125 GHz. MIMO will also double, going from 8 streams to 16 streams space.
These days, operators such as Digi or Orange have begun to offer speeds of up to 10 Gbps, to try to take advantage of them through fiber optics and with routers with Wi-Fi 6. With Wi-Fi 7, which we remember, it is not expected until 2024, the bandwidth it would be above 30 Gbps, and could reach a theoretical 48 Gbps according to Intel estimates.
We speak of an enormous speed, where bandwidth matches other non-wireless standards such as USB 4 with up to 40 Gbps. However, in the same way that Wi-Fi connectivity will advance, so do cable standards, where Thunderbolt 5 promises to go up to 80 Gbps.
The future Wi-Fi will foreseeably be based on the IEEE 802.11be Extremely High Throughput (EHT) standard, although it will not be the only one we will see in the next few years. In addition to this standard of improvement in performance and bandwidth, it also works on other parallel Wi-Fi standards like 802.11bf, better known as Wi-Fi Sensing.
As recently leaked, the future 12th generation Intel Core will support this new standard. Although Wi-Fi 6E is still a very little used standard, it could be possible that many brands decide to upgrade their equipment directly with Wi-Fi 7.
Although the final specification is a few years away, there are already compatible devices
Technically they are not allowed say they are compatible with Wi-Fi 7, because neither the specification nor the name has been confirmed by the Wi-Fi Alliance. However, LitePoint, one of the benchmark companies in wireless connectivity testing systems, has presented this week the new IQxel-MX Wi-Fi 7.
It is the first device compliant with IEEE 802.11be requirements, capable of operating between the 2.4 GHz, 5 GHz and 6 GHz bands, with 320 MHz and MLO channels. That is, a testing device with the technical characteristics that will theoretically be implemented in Wi-Fi 7, the next great revolution in the wireless communications standard that has been with us for more than 20 years.
Imagen | Andres Urena