The Sitges Festival, one of the most important in the world devoted to the fantasy genre, has been going on for a few days, and this year you may have (also) been without going. After a survival edition in 2020 where sanitary restrictions had to be weathered, the Festival seems to have made it a habit to offer some of its films online. Now, we can all be in Sitges.
To access the films, you will only have to enter the Sitges Online section, and there you will have fifty films of all the sections for your use and enjoyment (after payment, obviously, and at the same approximate price as a conventional cinema ticket) . You can buy them and dispose of them until the end of the festival, next Sunday, and once you start to see any of them, you have a period of 30 hours to view it in full or even review it. We have selected some of the ones we liked the most so that you know where to start. The best of Sitges, comfortably at home.
'Mad God'
Thirty years of filming, the last ones paid for by crowd-fundingIt took the legendary creator of special effects and animator twice Oscar winner Phil Tippett to conclude this marvel that combines stop-motion, puppets, real image and computer animation. Highly symbolic, brutally gore, deliciously surreal, the hodgepodge of influences he wields ranges from 1990s industrial music video clips to Jan Svankmajer to Shinya Tsukamoto. The result is a unique and fascinating piece and worthy of being celebrated as one of the bravest films of this edition.
'Alien on Stage'
An endearing documentary that portrays the efforts of an amateur theater company that takes the Ridley Scott classic to the West End no less Londoner. Fireworks special effects, intolerable performances, massive amounts of alcohol, and a cross-border optimism for the film feel-good of this year. If you are not thrilled with the efforts of these lovable amateur actors it is because you did not deserve to enjoy the original movie to begin with.
'Knocking'
An incident sends a woman to a psychiatric hospital and when, already cured, she tries again to recover a normal life, your tranquility is interrupted by strange noises coming from a neighboring flat. A claustrophobic piece of suspense that drinks at times from Polanski's 'Repulsion' and that, with minimal and very classic elements, offers a time of tension in the old fashioned way.
'The Power'
In the mid-1970s, Great Britain experiences a series of blackouts that coincide with the first night shift that a novice nurse must spend in a hospital that will be dismantled soon. Loneliness confronts the young woman with her own traumas, the building's past and a darkness that begins to seem eternal.
'Eight for Silver'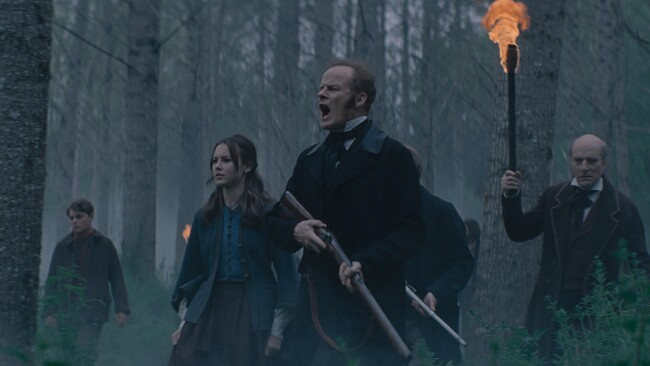 Sean Ellis, director of that curious and memorable thriller with Lena Headey entitled 'Broken', plunges completely into the fantastic and period atmospheres with the story of an 18th century French village haunted by a terrifying wild beast. A young pathologist will discover his supernatural origin in this horror adventure full of violence and with a very careful aesthetic.
'Inexorable'
Fabrice Du Welz's cinema is extremely irregular (although his latest films are not much, his sensational 'Calvary' is the best thing that came out of that already distant but memorable New French Extremism), but it is always interesting to meet again with his sick characters and his arguments on the edge. This time, it brings us the story of a writer who seeks inspiration to continue a bestseller and moves with his family to his wife's former mansion.
'Woodlands Dark and Days Bewitched'
Administer with caution: three hours and twenty minutes that analyze in depth the fascinating genre of folk horror. That is, where recent successful films such as 'The Witch' or 'Midsommar' have come from, but whose origins go back much earlier, to films such as 'The Wicker Man', or even to the first productions about witchcraft: sinister wastelands , rural people with the face of few friends, pagan rites … a whole subgenre analyzed in detail in an essential essay.
'The Boy Behind the Door'
Direct and concise, this little fairy tale for adults he does not disgust either the sordidness of certain themes or the simplicity of a good horror story. A couple of kids are kidnapped and taken to an isolated house: when one of them escapes, he decides to get his friend back and confront whoever is holding him.
'The Pink Cloud'
If you fancy a change in the third, try this intimate Brazilian piece of science fiction that has so many connections to the situation we lived through last year that it opens with a poster that guarantees that it was filmed before the pandemic. In her, A deadly pink cloud appears all over the world, forcing people to stay home. Two strangers are forced to share a roof and the confinement will take its toll on them and will force them to rethink their roles.
'Silent Night'
The world is ending. But displaying undeniable British phlegm, a group of people get together to celebrate in style their last night alive, taking advantage of the Christmas festivities. Kiera Knightley stars in this apocalyptic black comedy, in a film that has been praised for its particular approach to the topic of the end of the world.
'Sound of Violence'
A young girl who as a child witnessed the horrific murder of her parents has developed synaesthetic skills due to trauma. As an adult, she takes advantage of this unique characteristic of her senses to undertake a career as a sound expert looking for something very special in the sound of human flesh. Gore, reflection on creativity and psychedelic visuals for a film that will change your perception of reality.