When we talk about consumer electronics, often the last name "Smart" is synonymous with "Connected" and, let's face it, everything with connectivity sounds better … another thing is the real thing you can get out of it. Smart coffee machines (be careful, not to be confused with super-automatic, which are also smart) are an example of this. What can and can't you do with smart models? We review the main models on the market to verify it.
State of the art of connected coffee makers
The connected models are available in different coffee machine formats: espresso, capsules, drip … thanks to connectivity, they are understood with a mobile application and, in some cases, with voice assistants such as Alexa. Of course, to modify the configuration it is easier and more intuitive to do it from the app.
Less "smart" connected coffee machines are limited to offering through their application the manual with maintenance advice, contacting the technical service, ordering spare parts and showing some recipes. The most complete ones allow to modify parameters of the coffee preparation.
Among the most interesting assets of a connected coffee maker is that of power schedule it to be ready when we wake up. Of course, in any case you will need to previously add the water and coffee. And if this is in grain, your thing is to grind it at the moment if you want to squeeze the most of its organoleptic properties.
With everything, you can start making coffee while still under the coversBut you will have to go quickly to the kitchen to drink it if you want it to stay hot because no, they haven't brought it to bed yet.
Be careful: some coffee makers They are called smart even if they don't have connectivity because they offer the option of adjusting the different coffee preparation parameters to your liking (generally these are super-automatic espresso models with an interface with a screen) and, from there, create personalized profiles / recipes where they are memorized.
What you can do with the most interesting "smart" coffee machines on the market
Back in 2014 a Kickstarter project aimed to launch the Bruvelo, a connected coffee maker that promised to adjust all the necessary parameters to facilitate the preparation process depending on the coffee we have, or our tastes, from the mobile. The financing was canceled and the project did not go ahead.
From here, these are the main proposals of the manufacturers. You will see that some models are marketed in Spain and others are not.
Hamilton Beach Smart
The Hamilton Beach Smart is a drip coffee maker with Wi-Fi connectivity that works with both the app and Alexa. Despite being a connected model, its connected functions are so basic and easy that, unlike most models in this article, you will be able to get more out of it using it with your voice than from your mobile. Thus, you can turn it off or on, program it, modify the strength of the coffee and add it to your routines
Atomi Smart
The Atomi Smart is a drip coffee maker with Wi-Fi connectivity and compatibility with Alexa and Google Assistant. Both with voice assistants and with the app you can play with the strength of your coffee, the programming and the remote on / off.
Nespresso Krups Expert XN6008
The Nespresso Krups Expert XN6008 (268 euros) is one Nespesso capsule coffee maker with Bluetooth that by its design could well resemble a super-automatic espresso. But no, and that is noticeable in the settings offered by the application, which are much more limited, given the abysmal difference between using a capsule and the options offered by espresso.
With the app of this coffee maker you will have access to assistance and maintenance of the machine and play with some options such as the size of the coffee. In addition, within the simplicity of the adjustment options, you can save recipes.
Nespresso Krups Expert XN6008 – Nespresso capsule pod coffee machine, controllable with smartphone via bluetooth, adjustable recipes, 19 bars, automatic shutdown, anthracite gray
Keurig K-Supreme Plus Smart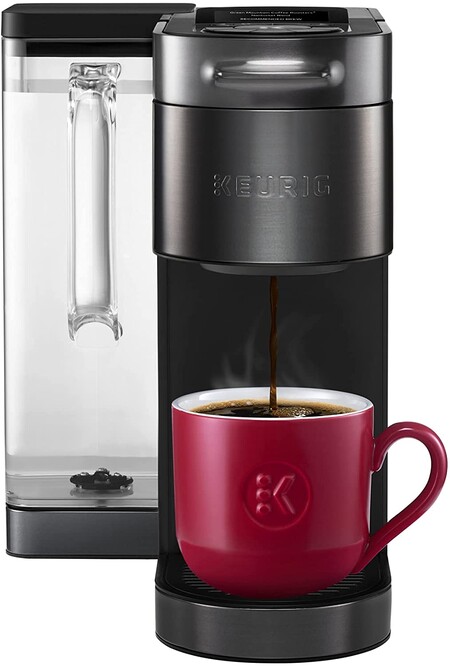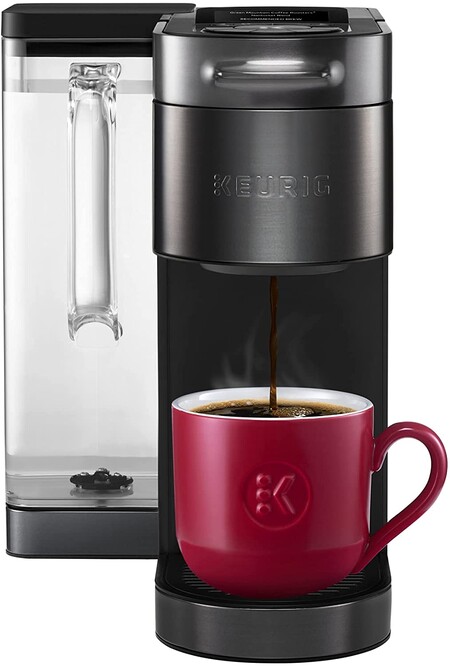 The Keurig K-Supreme Plus Smart capsule coffee maker features several interesting "smart" technologies. "BrewID" recognizes the brand and type of coffee to adjust the parameters according to the experts' recommendations.
This model connects via Wi-Fi, allowing put the coffee maker from anywhere with both the app and Alexa, offers personalized recommendations and allows you to adjust the preparation of coffee by modifying intensity, temperature and cup size.
Melitta Barista TS Smart
The Melitta Barista TS Smart (899 euros) is a super-automatic coffee maker that we have had the opportunity to thoroughly analyze. It has Bluetooth, which presents certain limitations inherent to this connectivity, such as the range, which means that we will not be able to handle it from the bed if it is out of range (or away from home).
What you can do with the application is configure and customize controls to take advantage of them manually (it is more agile than with the panel) and prepare our own coffee recipes. You can configure the type of coffee beans to the temperature, amount of water, intensity or the order of the ingredients (milk before or after coffee, for example). Likewise, it also allows you to determine the default recipe settings for the touch button shortcuts on the coffee machine itself.
Melitta Barista T Smart F831-101, Super Automatic Coffee Maker with Silent Grinder, App Connect, Touch Screen, 18 Recipes, 15 Bars, 1450 W, 1.8 liters, Stainless Steel, Silver / Black
Philips Series 3200 Connected
The Philips Series 3200 Connected is a super-automatic espresso machine with Wi-Fi connectivity that you can control both with your mobile phone and with Alexa and Google Assistant.
Among the tasks you can perform is to buy coffee on Amazon, access the maintenance manual and documentation, adjust operating parameters such as water hardness from Coffee +, turn it off, turn it on or use the timer.
Siemens EQ9
The Siemens EQ9 (1599 euros) is a super-automatic coffee maker with a large touch panel to choose from up to 22 varieties of coffee and customize them with the barista mode. The Home Connect app is limited in terms of usability, but with it you can access a database of coffees around the world, save your preferences and access exclusive recipes.
Siemens TI9553X1RW Super Automatic Coffee Maker, EQ.9 plus, 1500 W, 1.7 liters, Plastic, Steel
Bonus track: they are not connected but they are a little "smart"
The Barista Touch by Breville (1038 euros) is a super-automatic espresso machine not connected, but the manufacturer calls it "smart" because through a touch panel where you can adjust the intensity of the coffee, the texture of the milk and the temperature, to later store them with a certain name, so that you can play it whenever you want. Supports saving up to eight custom coffees.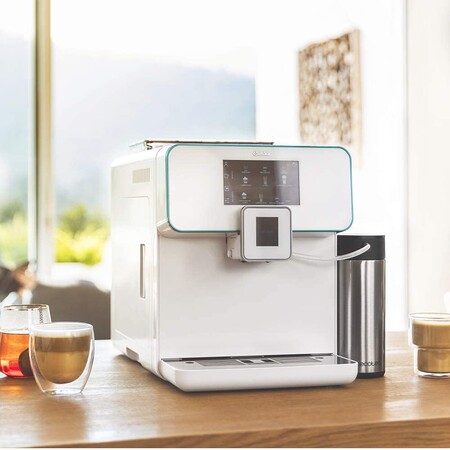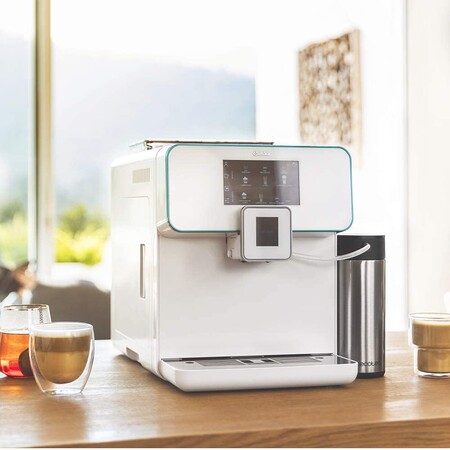 The Cumbia Power Matic-ccino 9000 (599 euros) is a super-automatic espresso machine with which it is possible to customize the intensity, temperature, pressure, amount of coffee, milk, cream and foam through its display. the order of pouring into the cup … and once you have everything to your liking, you can save it in your user, admitting up to 10 different ones.
Cecotec Cumbia Power Matic-ccino 9000 Bianca Series mega-automatic coffee maker. Customize Intensity, Temperature, Coffee, Milk and Foam, 19 Pressure Bars, LED Display, 5 Grind Levels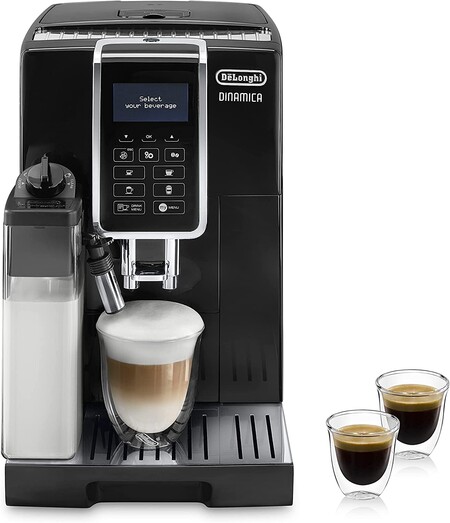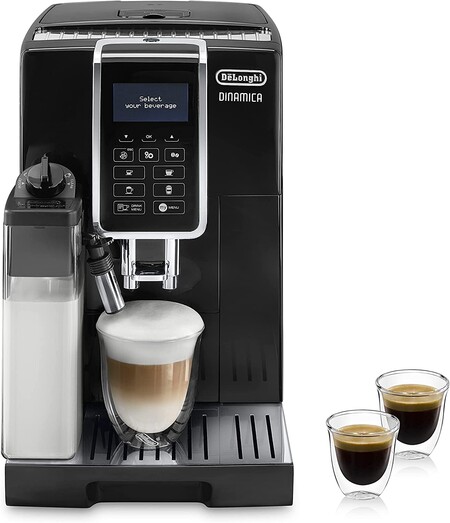 The De'longhi Dinamica (646 euros) is a super-automatic espresso machine with an LCD touch screen and its "MY" function, which memorizes the types of coffee that we customize according to our tastes.
De'longhi Dinamica Ecam350.55.B – Super-automatic coffee maker, 1450w, cappuccino function, personalization of a variety of drinks, intuitive control panel with lcd screen and touch buttons, black
In Xataka Selección we publish the best offers in technology, computers and electronics from the main internet businesses. Prices and availability may vary after publication.
You can be up to date and at all times informed of the main offers and news of Xataka Selección in our Telegram channel or in our profiles Twitter, Facebook and Flipboard magazine.

Note: some of the links posted here are from affiliates. Despite this, none of the articles mentioned have been proposed by either the brands or the stores, their introduction being a unique decision of the team of editors.