'New World', first impressions: an MMO that looks impressive if you manage to survive the huge queues to enter
'New World' is already among us. After the resounding failure of 'Crucible' (the MOBA-tinged Hero Shooter that came out times beta and was later canceled), Amazon Games has managed, after considerable delays, to put its MMO on Steam and players, including a server, they have already had a chance to get the glove.
Well, actually more or less, because the queues to enter have been, are and do not seem that they will stop being immense in the nearest future. However, from Xataka we have already had the opportunity to try it for a while to tell you our first impressions. In summary, we can say that at the end of a huge queue there is an MMO that deserves to be played and that points out ways.
An endless game, for the better
The world of MMOs is moving a lot. 'World of Warcraft', the greatest exponent, is not going through its best moment. Its most popular alternative right now, 'Final Fantasy XIV', continues to bet on the subscription model, it is not translated (nor does it seem that it will be) into Spanish and the competition is strong.
There are several games that want to take down 'WoW' and become the next great MOBA. One of them is 'New World' (which of 'WoW' has little), but there are also 'Lost Ark' (published by Amazon, by the way) and 'Ashes of Creation' (which is still going on for a long time). With 'New World' already on the scene, one wonders is it a rival for 'WoW'? And the answer, at least a priori, is "it can be".
The writer of these lines has put in more hours than he is willing to publicly admit to 'World of Warcraft' and 'Guild Wars 2', so without being a teacher I have some experience with MMOs. In 'New World' I have found a rich world, less varied than I would have liked and some mechanics that, at least to me, have convinced me.
A review of what 'New World' proposes
The game has the complexity that you would expect from an MMO of this size. In fact I would say is a more complicated MMO of the account. I would dare to say that it is the first MMO that has managed to get me to die in one of the first missions. Because yes, in 'New World' we are going to die a lot, especially if we are lone wolves. Enemies are tough from moment one, but really tough, the kind that take a quarter of your life in one fell swoop.
'New World' invites us to play with other people. This, recommended in itself because any game improves exponentially if we play it with friends, it is more interesting than ever in 'New World'. It will help us to beat the enemies more easily, to make the huge walks to get from point A to B more enjoyable (there are no mounts) and to improve more quickly.
Unlike other MMOs, whose combat mechanics are usually more "simple" (click on an enemy, automatically attack and launch combos), 'New World' proposes a combat type 'Souls'. We have a pointer that we must aim at the enemy to land a blow, in the style of 'Black Desert Online'. There are normal blows and charged blows that we take by holding down the left button. We can also cover ourselves with the right click.
This adds a new dimension to combat. It is no longer just being well equipped, but know how to play. With swords, axes and hammers it is relatively simple, but with bows, muskets and staves it is crazy. Were you a hunter in 'WoW' and used to tapping an enemy and shooting alone? Well get ready, because in 'New World' It's time to aim, take into account the movement of the enemies and do not run out of ammunition.
From my point of view, combat either you love it or you hate it. To me personally I find it very funny, much more dynamic. It forces you to be aware of what you are doing and to take into account many factors, such as the aforementioned enemy movement. I am looking forward to putting it to the test in PvP and raids, which is where the grace of an MMO lies, but I still have to get there.
What I have been able to prove are the features. There are three and that you get into one or the other will mean that you can play with or against certain players, do one or the other missions and have one or the other missions. In addition, the factions will have to conquer territories (and fight against the other factions) to gain advantages. That adds a competitive edge to the game to see how it progresses in the future.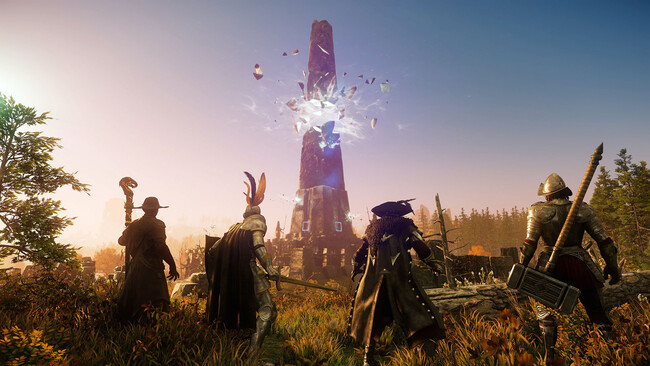 I like how the skill tree is designed. We get character points to improve our attributes, such as strength, constitution, intelligence or dexterity. In addition, I appreciate that the game clearly indicates what it is for and how each parameter benefits us. Mini positive point also because we can reset the points to give our character a spin at any time.
I also agree that special attacks are linked to weapons, as in 'Guild Wars 2'. If you have an ax you will have such attacks, if you use as many different swords and if you use your own staves. I have felt comfortable and, at least for now, it seems like a good decision, but I would understand that there are users who fall short of three attacks.
As for crafting (resource gathering), it reminds me in some respects of 'Valheim'. I've never been a big fan of crafting, but I admit that 'New World' puts it in an interesting way. Anything can be collected and refined to create such material that we will later use to create another that, later, we will use to create a sword, a potion or whatever. If you like crafting, hunting and fishing I think 'New World' can satisfy you.
The most beautiful world I have seen in an MMO, with nuances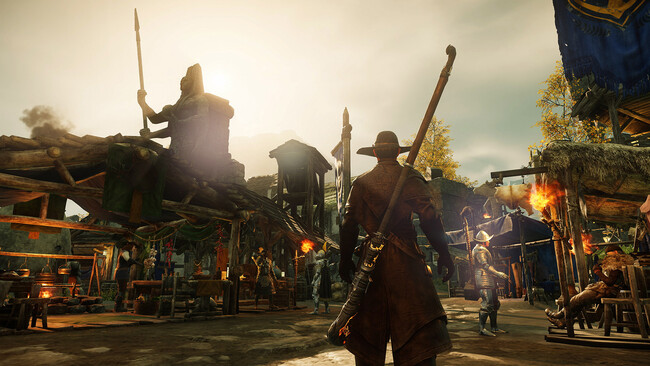 "Graphics are not the most important thing in an MMO." Okay, I accept it, but that doesn't mean that the graphic section of 'New World' is outstanding. The world of Aeternum is beautiful. The level of detail of all the elements is very good and the animations are very successful.
The cities feel alive and that atmosphere between pirate and colonial seems to me to be very successful. Nevertheless, I miss that the NPCs serve for something else that to give us missions or to release a dialogue that, let's face it, we are going to completely ignore.
For example, I miss that we can sell things to the NPCs. As with all MMOs, our loading capacity is limited. And yes, we can "take advantage" of objects to get parts (which we will use to repair), but it would not hurt if you could sell the things you do not use to the NPCs. Not everyone, okay, but some at least.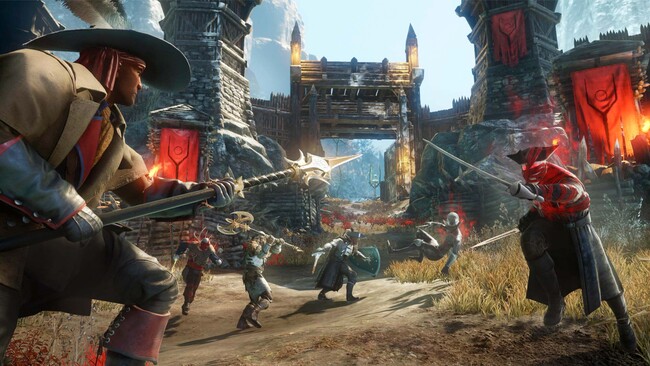 Another aspect that I think has room for improvement is the enemies. I still have a lot to explore but it gives me the feeling that the variety is scarce. The "drowned" or "zombie pirates", as you want to call them, are everywhere and, at the moment, although I have seen a couple of variations, I have not encountered other different enemies.
I don't quite like that. The ideal in an MMO of this size is that in different areas there are different enemies and settings, but in my adventure I've always fought the same enemies and I have seen cities and towns very similar. Right now it doesn't seem like a worrying thing to me, but it can be in the long run. 'Guild Wars 2' and 'World of Warcraft' are more varied in this regard.
The main missions, on the other hand, seem interesting to me and they take you to explore the map (now we go with that), but the secondary ones … Many of them are either messenger missions or collection missions. And it is good to make a couple, but I think that it is overused to chop stone, cut trees or look for this or that item in boxes in a nearby town.
And finally, although I have mentioned it before, I miss mounts. Exploring the world is fine, but make no mistake, a one kilometer walk to get to the mission point is a lot of walking. And why are there no mounts? If we stick to one of the writings that can be found in the game, ergo al lore, because the horses are angry. It says the following:
"Following a recent spate of back injuries, Aeternum medics feel compelled to issue this warning to anyone transporting goods between settlements: Please remember that there are NO beasts of burden in Aeternum. No horse or donkey will pull his chariot, nor will he carry his load, nor will it tolerate a rider. All efforts to domesticate or re-domesticate these animals have only led to injuries and many oaths. "
And if that was not enough, fast travel consumes Azoth, a resource that is easy to obtain thanks to the missions but that can play a trick on us if we run out of it.
'New World' points out ways
There is still a lot to play and a lot of world to explore, but the truth is that with 'New World' Amazon seems to have hit the right key. The game is fun, dynamic and has a lot to do, although it has room for improvement, mainly in the variety of scenarios and enemies.
Hopefully, being a game of this caliber it will improve over time and Amazon will take note of the feedback players, because a playerless MMO cannot be massive or multiplayer. The ingredients have them, all, but now it's time to look ahead.
And you not only have to improve these aspects, but reduce queues. It is "understandable", in quotes, that in these first days the queues are endless, but hopefully in the future accessing the game will be easier and will not mean leaving the game open and sitting down to wait for the queue to advance.
New World (standard edition)