Microsoft Surface Duo 2: the second attempt at a folding mobile adds two screens with 90Hz and a triple camera at the height
Microsoft keeps trying in the mobile field. This year with the new Microsoft Surface Duo 2, your mobile with Android, home applications and a peculiar folding design with two screens joined with a hinge.
These are the characteristics of the new Surface Duo 2. From the improvement in the screens, support for 5G connectivity and an improvement of the edges and the design of the device. The Surface Duo 2 also incorporates a triple rear camera, taking a leap from the first generation that paled in this section.
Two screens that make up an 8.3-inch device
The Surface Duo 2 will offer two screens connected by a hinge, being able to use it both in one position and in another. Combined, the two panels form an 8.3-inch diagonal screen. In addition, this year the brightness of the AMOLED panels of 5.8 "each has been improved and the refresh rate has been increased to the 90 Hz.
At the design level, the device appears more compact than the first generation and on the hinge, when closed, shows the time and a notification bar.
For the sound system, Microsoft explains that the Surface Duo 2 will offer stereo sound regardless of how we hold the device. Inside will be offered a processor Qualcomm Snapdragon 888 with 5G connectivity.
Microsoft explains that 150 Android games such as 'Asphalt Legends 9', 'Dungeon Hunter 5' or 'Modern Combat 5'
But undoubtedly the greatest novelty is found in the photographic section. While the first generation offered a simple 11 megapixel dual camera, this new Surface Duo 2 comes with a triple camera system with a 12-megapixel main sensor, a 12-megapixel telephoto lens and a third 16-megapixel ultra-wide sensor, with f / 1.7 and f / 2.4 aperture lenses, plus optical image stabilization.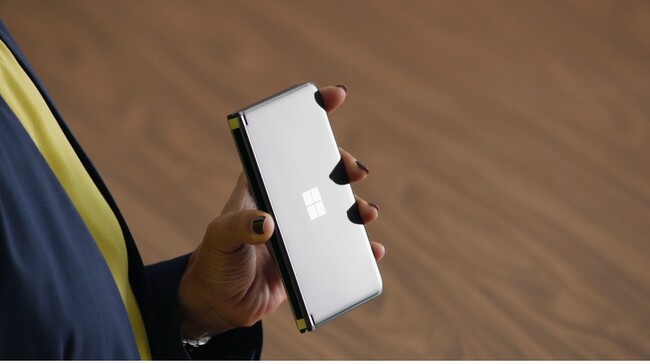 In development … you can follow the event live here.