Microphones and recorders buying guide for ASMR: best tips and recommendations and six models from just over 100 euros
To cut paper. The stroke of the pencil on a notebook. The needle poking a vinyl record. A whisper. They all have something in common: they are capable of causing (in some people) a "brain orgasm", the maximum effect of ASMR.
The Autonomous Meridian Sensory Response (abbreviated, ASMR) is in fashion and more and more people are encouraged to upload their videos to the internet producing those curious sensory stimuli. If this is your case and you are looking for a microphone to match, in this buying guide you will find how a good microphone for ASMR should be and a selection of models.
How to choose a good microphone for ASMR
If you are looking for a microphone for ASMR, there are three characteristics that you should pay special attention to:
Sound quality
ASMR is simplicity, acoustic minimalism, giving prominence to sounds that usually tend to remain in the background. And ideally, they should be heard as clearly as possible. Although if you are a beginner you can look for models that offer an acceptable quality for their price, the concept "sound quality" encompasses the result of parameters such as frequency response or impedance.
The frequency response refers to the range of sounds that a microphone can pick up and we want it to be as wide as possible (measured in hertz).
Impedance is the opposition to the alternating current offered by the microphone at its output. They are classified into three types: low impedance (50-1000 ohms), medium (5000-15000 ohms), and high (more than 20,000 ohms). Be careful because the length of the cable also influences. For ASMR look for those with low impedance, preferably less than 600 ohms.
The noise from the microphone itself
When you start recording ASMR (actually, it applies to any other recording), in addition to what you want to record, you will hear some hiss, crackle, and hum. It is what It is known as auto-noise and all microphones generate it to a greater or lesser extent, although not all keep it equally low. Considering that you are going to record low-level sounds with a lot of pauses, these acoustic "incidents" are especially important.
With this clear, it is important to look at this data in the specifications provided by the manufacturer, but you will not always find it. In fact, if auto-noise appears, it is already a good sign. A microphone with auto-noise of 15dB or less has the potential to be excellent at ASMR because the lower the better.
Another alternative is look up the signal-to-noise ratio (detailed as S / N). In this case, the higher this figure, the quieter the microphone will be. In this sense, values ​​from 80dB are very promising for this task.
In search of 3D sound
Above these lines you will find a diagram that collects the usual polar patterns of microphones, a feature of vital importance in ASMR, where you play creating with the sensations that goes beyond the sound itself, achieving an enveloping three-dimensional experience with directionality.
In ASMR of a certain level, binaural recording is common, which uses two or more omni-directional microphones combined with a space between them, so that they are capable of picking up 3D sound as your two ears would, that is, spatially with each one, so that you can hear sounds that you feel are coming from all over the space in the room where you are.
In general, binaural microphones are expensive, so for beginners / amateurs it may be interesting to bet on omni-directional models. Omnidirectional microphones pick up sounds from across the room evenly, so even if you don't get binaural sound, you will still be able to pick up the effect of sound coming from different directions. In fact, you could even experiment yourself creating binaural sound by placing two omni-directional microphones and combining them.
What device are you going to use to record the sounds?
Finally you have to consider what you are going to use to record your ASMR sounds, which in practice is summarized on a computer or a recorder.
If you are going to use a computer and your budget is tight, then a microphone with USB is a great option. However, most high-end microphones have an XLR socket that is not used to connect with your computer, but you will have to use an adapter or a sound card (although if you want it only and exclusively for ASMR, this last option is like killing flies with cannon shots).
Another widely used alternative in ASMR is a quality recorder, which also has an integrated microphone, although if you are looking for binaural sound, it is better to use a separate microphone. Of course, some microphones (especially those of condenser), require of a power supply to work (phantom power), so make sure the device in question can provide it.
Microphones and Recording Devices for ASMR – Featured Models
Blue Yeti
The Blue Yeti (139 euros) is an old acquaintance among those who start recording for two very important characteristics: its versatility and its good value for money, being in practice a very interesting microphone whether you start with ASMR or if you do it with a podcast or streaming
It is a USB microphone capable of being configured in various patterns, including omnidirectional or cardioid. Easy to install, configure and commission, it has a frequency response of 20Hz – 20kHz.
Blue Microphones Yeti – USB microphone for recording and streaming on PC and Mac, 3 condenser capsules, 4 pick-up patterns, headphone output and volume control, Black (Blackout)
Rode NT1-A
Precisely one of the microphones with the lowest auto-noise you will find Within this hobbyist range is the Rode NT1-A (164 euros), which according to the manufacturer is 5dB. It is a microphone with an XLR socket that requires a 48V power supply, for which you will either need a recorder capable of providing them or a sound card (Amazon sells it in a pack with the popular Focusrite).
This is a quality microphone, with a frequency range of 20 Hz to 22 kHz, a very low impedance of 100 ohms. Of course, its sound pattern is cardioid, the one commonly used for streaming.
Rode NT1-A – Large Diaphragm Microphone for Recording Studios, Silver
Rode NT5MP
Small but high-quality, the Rode NT5s (289 euros) are condenser microphones with a cardioid pattern, impedance of 100 ohms, a frequency range of 20Hz to 20kHz and a signal-to-noise ratio greater than 78dB. Although not the most suitable pattern for ASMR, they come in pairs for accurate and clear stereo recording.
Tascam DR-05X
The Tascam DR-05 (99 euros) is a very attractive device to start ASMR at a low cost, compact and versatile. It captures the sound thanks to its two omni-directional condenser microphones that work in stereo, with a signal-to-noise ratio above 92 dB. It records in mp3 or WAV format and works as a 2-output usb audio interface, which you can use with Windows computers, macOS and iOS devices. Powered by two AA batteries
Tascam DR-05X, Grabadora Mano, Multicolor
Zoom H4nPro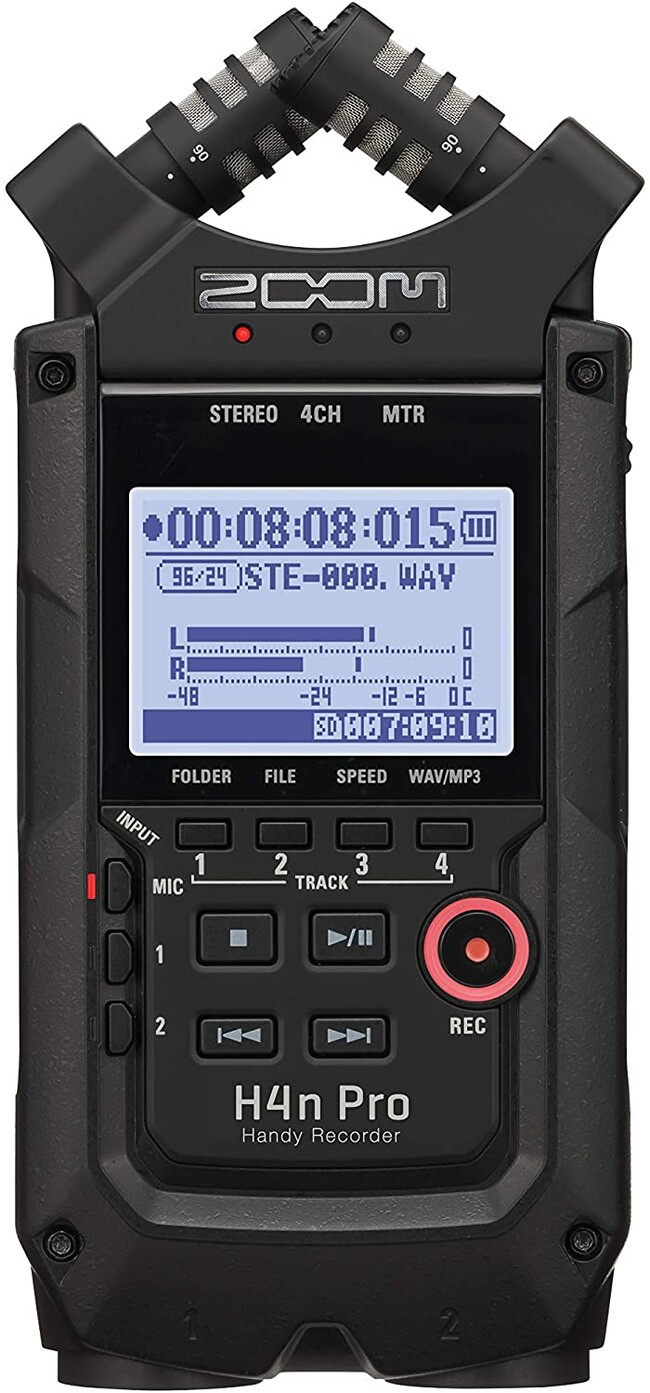 The Zoom H4nPro (225 euros) is a device widely used among those who do ASMR. It is a three in one: recorder, microphone of a fairly good quality and audio interface (although we insist, if you are looking to capture sound in a spatial way, it is better to connect an extra microphone). It uses a micro SDHC card to save the data and a USB socket to transfer it to the computer.
It is capable of recording up to 4 audio channels simultaneously, it has XLR inputs to which you can connect a microphone (to which it will supply current). It is powered by 2 AA batteries.
Zoom H4nPro-BK/IF – grabador 4 pistas – interfaze USB – color negro
Zoom H3 VR
The strong point of the Zoom H3 VR recorder (246 euros) is the spatial recording thanks to its four built-in microphones to capture sound in a spherical shape and the binaural stereo recording mode (there are two others, the "Ambisonics" and the standard stereo) .
Capable of recording sound up to 24bit / 96kHz, it is a lightweight and portable device that is powered by batteries to take with you anywhere and comes with post-production software. Compatible with microSD / microSDHC / microSDXC cards.
Home | Photo by Karolina Grabowska from Pexels
You can be up to date and at all times informed of the main offers and news of Xataka Selección in our Telegram channel or in our profiles Twitter, Facebook and Flipboard magazine.
Note: some of the links posted here are from affiliates. Despite this, none of the articles mentioned have been proposed either by the brands or by the stores, their introduction being a unique decision of the team of editors.