Roblox is one of the most popular games in the world, and it is just a foundation on which users can create their own games for other people to download and play. Today we are going to guide you through the first steps to create a Roblox map, and then you can post it and let others play it.
Creating a game in Roblox is complex, and if you want to go beyond creating a map, you will need to know how to program. We're going to try not to overwhelm you, and that's why we'll start with the basics of creating maps on this platform. Then, you will have to take these notions and master them, spending hours until creating the map that you have in your head in the game.
First, download Roblox Studio
The first thing you have to do is download the Roblox Studio program. For that, you will only need to create a Roblox account. Once you have it created, go to the Roblox.com website and click on the button Create (1). This will take you to the page for Roblox Studio, the platform's free game creation engine. There, click on the button Start creating (2).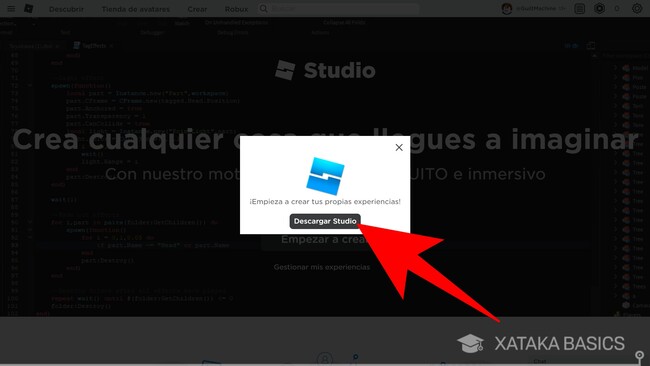 When you click on Start creating, the page will search for the Roblox Studio application on your computer and launch it. If it cannot find the application, it will show you a window in which you will have to press the button Download Studio to start the download.
An .exe file with the name of Roblox will be downloaded, and you only have to double click on it to execute it. When you do it, Roblox Studio will install automatically, and when the installation process is finished it will open for you to start using it. From now on, every time on the Roblox website you go to Create and click on Start creating, the web will launch Roblox Studio on your computer. The first time you open it, you will have to log in with your Roblox account.
First, you have to shape your world
When you open Roblox Studio, the first thing you will see is a screen where you have to choose the template you want to use to create your game. Here, you can choose a blank template to start from scratch, or one that is already created. The recommended thing the first time is that you start from one created so that you can see the different elements that there are.
Whatever you choose, you will go to a main screen where you will see the map. It's easy to get a little scared here, because it can be a bit overwhelming to see all the options available. Here, you will open or close the options in the top row, and they will be placed on the sides. With the right click of the mouse you can move around the map with the asdw keys, and with the left click you can move elements to move them around.
Up you can activate option Ground to open the terrain editor on the left side of the application. There, in the tab Edit you have options to modulate the world, flattening terrains, making holes or creating mountains. Whatever you want.
You also have a choice of Smart used to change the type of terrain that you have on the map. With this tool, you can make the areas have different types of grass, stones or pavements. Of course, you will need take your time to shape your world just as you want, so everything here depends on you and the patience you have.
In the event that you start a world from scratch the option of Ground it's more important, since with her, in the option of Add that you have to the left, you will start to put the floor or the base that you want to use in case you do not settle for blank pieces to step on.
Here, you will have to move well through the terrain, since depending on the camera plane, this will be the slope of the terrain. You will have to face down to make it flat. Then, you can use the rest of the tools to mold the map to your liking.
Add and modify pieces on your map
In the program, you also have an option called Parts, which you can unfold to place different types of geometric figures on the map. In the end, remember that Roblox is also a game that drinks a lot from Lego, so you can create anything you want with those geometric pieces.
Although it works for almost all elements, it is even more important for parts. Up you have two menus to edit materials and color of the elements, such as the piece you have selected. This will help you customize it.
Another important tool to know is the option of Climb that you have at the top of the screen. When you press it, different elements will appear around the selected object. points on which you can stretch with the mouse to change the appearance of the element, changing its size or shape. In this way, piece by piece you will be able to build your world.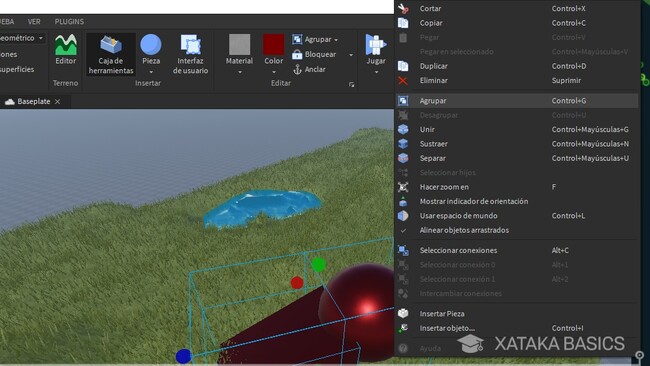 Finally, holding down the key Control you can select multiple items at the same time, and on top of that, when you do right click on one or some selected elements A contextual menu with options will appear. With this menu, you can group pieces together to move them all at once, or simply merge them to become one.
If you want, You can add names to the elements you add to organize yourself better. You can do this in the box Properties when you select an object, in the field called Name. Thus, each element can have a different name.
Add objects with the toolbox
You can add other elements to the map by opening the Toolbox, which will be placed on the left side. The toolbox has a search engine to find element types and that way it takes less time to decorate the map with trees, buildings or whatever you need.
In this toolbox is where you will find absolutely everything. From walls and buildings to Spawn zones to choose where the characters come out or the sky you want your map to have. Here, again, you will have to spend a long time adding everything you want to your map.
On the right side, you will have a panel Explorer where all the elements on your map appear and you can select or delete them from there. What's more, in the properties there are other important options as the behavior of the element, such as if you can bump into it, or even the material from which it is made. You should also review everything.
You will be able to move both the pieces and the elements that you add as you want. At the top of the application you have options to select, move, scale, or rotate items, and thus be able to give them the shape and orientation you want.
It is important to know how to program
Beyond creating your beautiful map, if you want to create games with different behaviors for Roblox, you will need to know how to program. This means that you will be able to write scripts for each object on the map, in which you can determine how you want that object to behave. This is where Roblox goes from being a sandbox for creating maps to being an engine for creating games.
To create a script, go to the browser and click on the + button that appears to the right of the object you want to program. A menu will open in which you have to choose the option Script, and that will take you to a window in which to program whatever you want. Roblox uses the programming language take, that is, you will have to learn to program in order to take advantage of it.
Now arm yourself with patience
And these are the basics of this creation tool. Now, you only have put hours into it and shape your world with all the patience you want. You have buttons to copy, paste, and delete objects, and shortcuts like Control + Z To undo the last thing you did, they can help you fix mistakes you made.
Up to the right, you can click on the button Play to delve into the map you have created. If you display it with its down arrow, you can choose to launch it in the Roblox application, play it in a separate window or within the editor. Do it as you see fit.
When you are playing on your map, you can test everything you have built in first person, to see how everything looks and works once you're playing. Also, while you test it, on the left you will have a button To post to launch your map into the world, although I recommend that you do not do it unless you are completely sure of the result.