Cordoba's alternative to Powerpoint spreads around the world: this is how Genially has gone from 'side-project' to surpass 15 million users
Genially just announced one $ 20 million funding round. This startup to create interactive content in a simple way was born in Cordoba in 2015, as an internal project of the communication agency that at that time coordinated Juan Rubio, CEO and co-founder of Genially. A company that is already present in more than 190 countries, is used by 15 million users and has exceeded 2,000 million views.
This is the story of a tool that compete against giants like Microsoft with PowerPoint, Google with your presentations or companies like Prezi. "At first we saw it limited to the marketing and communication market, but in reality everyone can create interactive content. Education was not in our focus at the origin and today it is a very important category", explains Rubio in conversation with Engadget, accompanied by Chema Roldan, Genially CTO and Luis Garcia, creative director.
Three partners who have managed to transform a simple tool to make interactive infographics and presentations on a global platform with a team of 130 people and used by large corporations and educational institutions such as Santillana, Columbia University, Grupo Prisa, Cruz Roja or Telefónica.
From Córdoba to New York
The recent Series B has been led by the North American funds Owl Ventures, specialized in educational technology, and 645 Ventures, with experience in software as a service (SaaS), together with the European firms DN Capital, Brighteye Ventures and entrepreneurs such as the founders of Kahoot or s16VC, in addition to previous investors that have remained.
"We are profitable, we do not need this cash flow in cash. This round is more of a strategic decision to accelerate our growth. We needed partners who would add value, not just financial, people with experience ", describes Rubio." When we started we made a list of 20-30 tools that we would like to look like. By half we have already overcome them. And we've even surpassed Prezi at the usage level. But the value bet is different. They made a difference at the time, but with Genially, the way of creating, of viewing content is changed. "
Genially offers us a drag-and-drop based interface to make interactive presentations, microsites, infographics and interactive graphics. The team explains that they grow organically, word of mouth is their greatest help and they describe that interactive content reaches a lot of virality because of how visual they are. This has allowed them to spread throughout practically the world despite the fact that the tool is only available in Spanish, French and English. Its main markets are France, Spain, Mexico and Colombia, although this 2021 they have seen great growth in countries such as the United States, Brazil or Italy. Precisely for this reason, the next language that will arrive this year is Portuguese.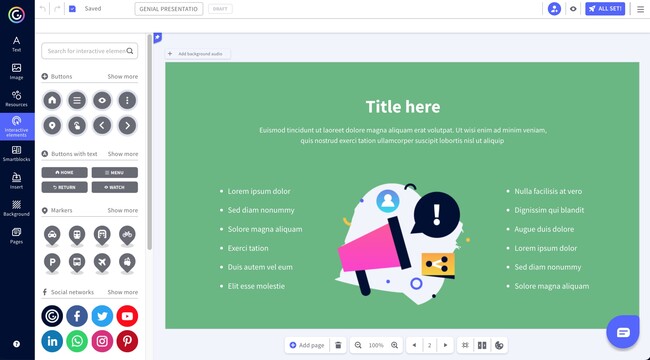 Currently the Genially team works mainly from Córdoba, although Rubio has planned form a team of 10-15 people to move to New York and lead the international leap. "With the pandemic we grew in a big way, especially through education and remote work. We got a x4 in all metrics," they describe.
"We are hiring about two people a week and we expect to be about 160-170 people by the end of the year"say the founders." We have about 120,000 clients worldwide. They use us from internal corporate training departments to marketing and communication departments to show their work and achieve public diffusion ", explains Luis García, CMO of Genially.
For these professional clients, Genially has payment plans that allow you to edit files, add audios, remove the watermark and access collaborative editing. The turnover comes 60% from the education sector, although the number of users is much higher. "It is a strategic sector for us. In education it is very important to communicate concepts", they point from Genially.
At first, Genially was an internal development
After the 2008 crisis, Juan Rubio, a biologist by training, set up Ecoavantis, a consultancy specializing in sustainability communication. From that company emerged what is now Genially. "It was an internal development for Ecoavantis and I dedicated 50% of my time to it"explains Rubio.
"We specialize in neuromarketing, with premium content tailored to explain concepts in a simple way, which led us to discover that interactive content was what most hooked people," he explains. But they were expensive and if there was a change, there was no simple tool to be able to modify that project without programming knowledge.
Genially emerged from customer feedback, as a tool to speed up the creation process and reduce dependency. Originally this tool had the support of Ecoavantis and was focused on the world of marketing, but later Rubio ended up dedicating 100% of the time to it. "You could say that we started with an employee and a half," says Rubio.
That was when Luis García, with whom he had already collaborated and shared entrepreneurship workshops, joined Rubio and later Chema Roldán joined, who he was working in Madrid on 'cloud computing' and he wanted to return to Córdoba. "As I was leaving, I left as a partner and not as an employee," reflects Roldán. "From day one I saw that it was an innovative project and I was aiming high. I think it was one of the best decisions of my life."
A tool that has been scaling and already has more than 200 million requests a day
Genially's growth is closely linked to the possibilities offered by technology today. "The tools that AWS gives you (Amazon Web Services) you did not have before unless you had a team of 100 people", describes Roldán. There are currently 41 people, including QA, in Genially's technical team, who also point out that they are looking for personnel.
"In technology in principle we look for Spanish speaking people and 'Full Stack', but the programming language is not a limitation. Our base is Node.JS y React, but a person who has been programming for 10 years does not care to go from Java to Javascript, or from Angular to React. We are looking for more senior profiles to help us, "explains the Genially CTO.
Genially's own team describes on Medium the different technological challenges that have been overcome and how they are becoming a standard for creating interactive content. Asked what has been the most difficult implementation, they respond with a task in which they are still engaged: "the management of the teams; the group accounts".
Another issue that has kept the team busy is scalability. If at the beginning of the year they pointed out that their API received 50 million requests a day, during our conversation this figure rises to 200 million. "Making a tool scalable is a constant challenge. You can do one thing that works well for three people, but when you have 80,000 at the same time, things change," describes Roldán. They also point to the challenge of backward compatibility, ensure that the old Genially can incorporate the new functions that are added.
"The Genially tool was born for the individual user, but for two and a half years we have seen that in our business model we have a client that belongs to a larger organization. A company that encourages the use of Genially. At the product level we are improving to make it a team tool, where 10 people at the same time can share brand resources and use Genially as a collaborative space, "explains Rubio." It's like a new version.
"We have a very powerful community of creators, but much more of visualizers," they proudly comment. Genially's usage figures are significant and this is also reflected in its collaboration with major market players such as Google with Classroom or Microsoft with Word Online or Teams, where they explain that Microsoft's own team worked to carry out the integration.
"We identify a lot ahead to grow. We want make Genially a new standard for interactive content"They point out. A platform for creating visually attractive content, which involves an exploratory process, with layers of importance and easy to understand.