Astro is Amazon's domestic robot that watches over your house and wants to be more than just an Alexa on wheels
At Amazon they believe that soon there will be a robot in every home, and they want to be protagonists in this area with Astro, a little robot on wheels that has a tablet and a periscope camera that allows, for example, to monitor the house or record ourselves during videoconferences.
With Astro Amazon wants to bring the power of Alexa to a robot that is capable of showing us notifications and putting us in contact with our family and friends from an interface that combines a bit of their Echo Show and a bit of their Ring family video surveillance solutions.
Amazon Astro datasheet
Amazon Astro

Wheels

12 inches

Camera

12 Mpixel Periscopic

Can be raised up to 107 cm

Loading tray

Can carry up to 2 kg

Connector

USB-C for accessory connection

Also serves as a 15W mobile charger

Battery

Two hours of autonomy

Charge from 0 to 100% in 45 minutes

Autonomous charging

Price

$ 999.99 (promotion)

$ 1,449 (final)
Much more than a tablet on wheels
Amazon's little robot is somewhat reminiscent of Sony's Aibo, but it adopts a different, more "robotic" format – excuse me – and in its design highlights that "face" that is shown through a tablet which is also an interface in the case of receiving notifications or making videoconferences.
For video conferencing Astro has a telescopic camera that is capable of being placed at a very decent height. This periscope camera is also essential for another of its most relevant functions: the one to watch that everything is fine at home.
In fact Astro can help us to remotely check if everything is ok at home, but thanks to the Alexa Guard service it is also capable of detect sounds from a smoke alarm or breaking glass to send an alert to our mobile.
Amazon also highlights how Astro can help care for the elderly serving as robotic assistants. In this way, Astro can send notifications or establish routines thanks to the Alexa Together service that help them, for example, to stay active and, of course, to be able to notify in case of an emergency. It is also capable of carrying small objects up to 2 kg on its "back", at the rear.
Those functions are combined with those of pure surveillance: Astro here inherits much of the functions of Ring's video surveillance cameras, and is able to "patrol our house" when we are away or send videos so that we can see the state of our home at all times if we are away.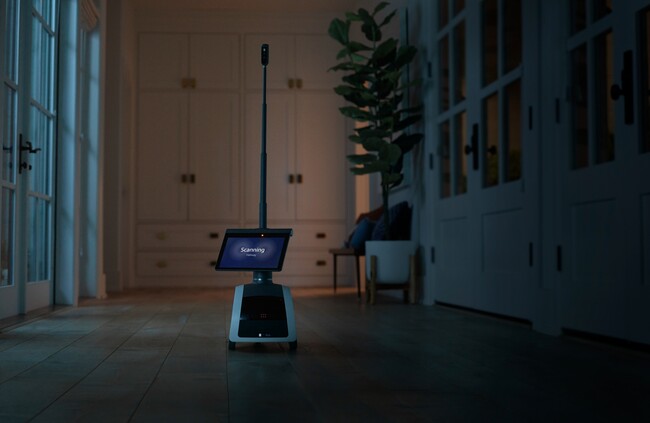 That tablet that serves to simulate emotions is also essential when offering these videoconferences, but it can also play video content, podcasts or music following us wherever we go.
At Amazon, they also took into account privacy control preferences and user control. Sensors allow you for example to detect obstacles —But no stair climbing, of course— and data processing (and home mapping) is done locally.
We can also designate areas that Astro cannot access, and as with the Echo family devices, we can activate and deactivate your cameras and microphones at any time. In addition, an LED light indicates at all times if there is a video or audio streaming from Astro.
Amazon Astro price and availability
The new Amazon Astro robot will begin to be available before the end of the year in limited quantities and in the United States, and its promotional price will be $ 999.99.
The final price after the promotion will be $1,449.99, and there is no data yet on whether Astro will also be sold outside the United States and at what price.
More information | Amazon